To Begin With

1. Full Name: Samantha Elizabeth Abbott

2. Common Name (what most people call you): S

3. Age: 15

4. Grade in School: Sophmore

5. Sexual Orientation (i.e. bi-sexual, lesbian, straight, gay): straight

6. Current Residence (City, State): Chicago,IL

7. Birthplace: Chicago

8. On average how many hours do you spend on the computer a day? 6-7 becuase at school we're on the computers for about 5 hours out of the day...

Favorites

9. Color: Emerald Green and Red

10. Comic book hero/ novel hero(in): Either Scarlett O'Hara from Gone With the Wind or Anne Shirley from Anne of Avonlea. Both marvelously strong characters who work hard to get what they want.

11. Candy: I LOVE anything chocolate! But my favorite candy would either have to be Kit-Kats or Carmello's... ^_^

12. Season: Either Winter or Summer. Winter can be a bit depressing at times but I love it. I do love summer as well because I love the water but I hate the heat and humidity -_-*

13. Holiday: Christmas!

14. Number & Why: I have a few favorite numbers 7,13,and 39. 13 i've always been partial to and I don't know why. Seven is my volleyball number. And 39 because it was the golden year of film and I'm absolutely crazy about classic movies.

15. Boy's name & Why: Alex,Clark,Jeremy,Max. I can't explain why because I don't know myself...

16. Girl's name & Why: Vivien,Samantha,Lucy,Tallulah. Same reasons as the first although I do have a few people I admire by a few of those names.

17. Shampoo & Conditioner: Brilliant Brunette although I used to use Garnier Fructis which I loved as well...

18. Favorite Sport to watch? Play? I don't watch sports...Well except the superbowl. Lol. But I do play volleyball and love it.

19. Two favorite Authors: Ahhh I can't just pick two. Emily Bronte. Margaret Mitchell. Daphne DuMaurier.

Top Five

20. Movies: Gone With the Wind. Rebecca. Chicago. Marnie. Meet Me in St.Louis.

21. Bands: No Doubt. Vanessa Carlton. Evanescence. Billie Holiday. Judy Garland.

22. Put these in order: Purple, Black,Lime Green, Hot Pink, Yellow I really don't take a particular liking to any of those colors...Infact there all my least favorite colors except for black. But regardless i'll put them in order. Black,Yellow,Purple,Lime Green,Hot Pink

23. Books: Gone With the Wind. Divine Secrets of the YaYa Sisterhood. Rebecca. Wuthering Heights. The Notebook.

Effort Questions
Pick 10 that you would like to answer. However, if you answer all you get bonus points. ;]

24. Describe your favorite outfit (picture?)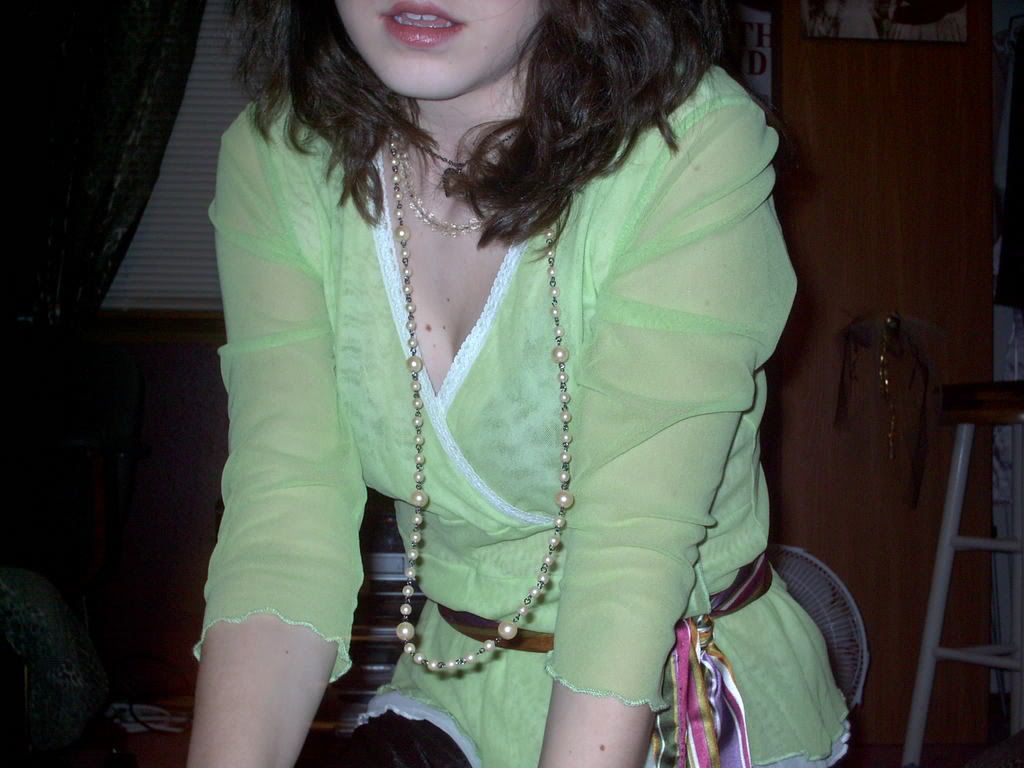 </a>
My favorite outfit changes all the time and I can never have just one. But this is one of my favorites I have a picture of(Yes I know very hippish lol). Another one of them will be featured in my pictures at the bottom, the one with the red rose.

25. Describe how you wear your make up (picture?)

</a>
I like to put most of the focus on eyes. I really don't like lipgloss or lipstick and I don't make a habit of wearing any although I'm constantly putting on chapstick!

26. When you're with your friends, how do you act?
I'm myself. Depending on which friends i'm usually eccentric and free be myself. Which leads a few people to believe i'm completely insane. But with other friends I can sometimes be quiet while they jabber on and gossip and other things which I really don't care about.

27. When you're around people you don't know, how do you act?
I usually stay reserved and to myself if i'm in a big group. Even if I havn't seen someone for a while I at first seem quiet and reserved. This is at times a bad thing as alot of people mistake it as snobbery or I not liking them. But usually after a while if I hang out with them in a small group of 3 or 4 i'm extremly outgoing and can compltetly be myself.

28. What's your definition of manners and do you have them?
Doing things with respect and class. Being polite and having decency. And yes I do possess manners.

29. What is love? Should age have a bearing on it? Why/ Why not?
Love takes many forms and some love is fine for some people while a diffrent kind is find for other. But me, when I fall in love I want to be very in love. People today throw the world love around too much and abuse it.

30. Do you follow others? Have you before? When? (Be Honest)
No. I did when I was a child but I definatly know better now. I want to be my own person
and not follow someone elses standard or rules. I lead weather others follow me or not as someone once told me. But I would prefer it if people don't follow me.

31. What would you change about your self?
I wish I had the ability to express myself in words much better.
I usually don't do well with expressing myself with words. I feel like I have so much to say
and not the room nor the words to write it with...lol

32. Describe a person you can't stand.
A person who is loud and obnoxious. A person who can't mind there own business. A person who has no life and gossips all the time. And a person who can't use common decency... I know many people like this and perhaps this is one of the causes of my dislikeing people in general...

33. Descbribe a person you would love.

34. What is your idea of perfect?

35. What is your definition of Elegance?

36. How many boyfriends/girlfriends have you had?
One. I'm extremly picky and don't see the sence in going out with someone that i wouldn't even think of marrying in the future. And besides i'm young i have my whole life ahead of me. I don't need a man to make me happy. It would be nice to have one but I havn't found one that would make me happy yet...

37. What is your pet peeve?

38. Who has had the biggest influence in your life? How?

Pictures:


</a>



</a>



</a>



</a>



</a>



</a>





Final Layer

39. Which mod are you most like, Kate or Kat? (Go to the "Meet your mods" section and look at our sample applications)
Kat! We have quite a few things in common...

40. Promote in two other communities and provide links. We DO check.

http://www.livejournal.com/community/_drama_queens_/42036.html

http://www.livejournal.com/community/adorable_girls/18019.html

41. Say somethingfunny. (This can be a picture)



Another one of the random pictures I found on my computer....Where on earth I got it don't know... If someone can identify this random lady let me know!

42. Words to live by:
Your only as happy in life as you make up your mind to be...

Dang...this app took me a long time... but it was fun!